Untuk Full Screen di Server UPLYR, Klik 2x di area layar.
SERVER

Server 1

Server 2

Server 3

Server 4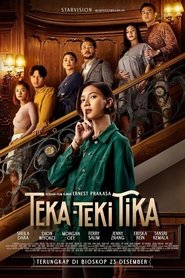 Teka-Teki Tika (2021)
Teka-Teki Tika – Budiman (Ferry Salim) dan Sherly (Jenny Zhang) tengah merayakan ulang tahun pernikahan di rumah megah mereka. Arnold (Dion Wiyoko), Laura (Eriska Rein), Andre (Morgan Oey), dan Jane (Tansri Kemala) datang untuk merayakan sembari berakhir pekan. Mereka tengah berbahagia juga karena Budiman akan mendapatkan proyek besar dari pemerintah. Tapi suasana makan malam yang hangat mendadak terganggu oleh kehadiran seorang perempuan misterius.Perempuan itu, Tika (Sheila Dara Aisha), mengaku sebagai anak kandung Budiman. Maksud kedatangannya, adalah meminta ganti rugi karna selama ini sudah ditelantarkan. Siapa sebenarnya Tika? Apa yang ia inginkan dari keluarga ini?
Sinopsis from IMDB
A happy family whose lives complement each other. While celebrating his wedding anniversary with his family, a rich businessman was suddenly surprised by the appearance of a mysterious woman who claimed to be his biological child, Tika. Until finally the division in the family was inevitable. Behind all that, there is a big secret about Tika's identity.
Views: 66
Genre: Comedy, Crime, Drama, Mystery, Thriller
Director: Ernest Prakasa
Actors: Ayu Laksmi, Dion Wiyoko, Eriska Rein, Ferry Salim, Jenny Zhang, Kiki Narendra, Morgan Oey, Sheila Dara Aisha, Tansri Kemala, Whani Darmawan
Country: Indonesia
Duration: 83 min
Quality: WEB-DL
Release: 2021