Serial TV
Streaming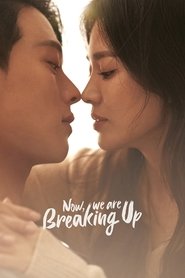 Now, We Are Breaking Up (2021)
Now, We Are Breaking Up merupakan kisah cinta dan perpisahan yang seperti mimpi. Ha Young Eun (diperankan oleh Song Hye Kyo) adalah ketua tim desain untuk sebuah perusahaan fashion. Dia adalah seorang realis berhati dingin dan dia memprioritaskan stabilitas terlebih dahulu. Dia cerdas, cantik, disiplin diri, dan peka terhadap tren.
Yoon Jae Kook (diperankan oleh Jang Ki Yong) adalah fotografer lepas fesyen yang populer. Dia memiliki segalanya seperti kecerdasan, kekayaan, dan penampilan yang tampan. Hwang Chi Sook (diperankan oleh Choi Hee Seo) adalah direktur tim desain label fesyen yang bersekolah di SMA yang sama dengan Ha Young Eun. Seok Do Hoon (diperankan oleh Kim Joo Heon) adalah CEO perusahaan Hubungan Masyarakat yang terampil.
Sinopsis from TMDB
Will tell stories of emotional love and breakups. Ha Young-eun, a manager of the design team at a fashion label who is a trendy and intelligent realist. Yoon Jae-guk, a wealthy and popular freelancer photographer who also has the brains and looks. Hwang Chi-sook is a director of the fashion label's design team who attended high school with Ha Young-eun and Seok Do-hoon is a skilled PR company CEO.
Views: 102
Genre: Drama
Director: Je-in
Actors: Cha Hwa-yeon, Choi Hee-seo, Choi Hong-il, Jang Ki-yong, Kim Ju-hun, Moon Joo-yeon, Nam Gi-ae, Park Hyo-joo, Song Hye-kyo, Yoon Na-moo
Studio: Samhwa Networks, Studio S, UAA Films
TV Status: Ended
Duration: 64 min
Release: 2021